2015-12-07
TWO VOLUNTEERS from a nongovernmental organization were reportedly summoned and interrogated by the police in Ningde, Southeast China's Fujian province, following a tip-off that they were involved in prostitution. Since they were conducting a private investigation into local environmental pollution before their detention and they were released the next day, there are suspicions that the Ningde authorities were trying to deter such public supervision. A commentary on ifeng.com lauds such public supervision and urges local governments to keep an open mind to efforts aimed at exposing polluters.
2015-12-02
More than 100 electric bicycles were destroyed by a fire in a residential area in Taijiang district, Fuzhou in Fujian province on Nov 30.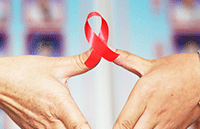 2015-12-02
More than 1,800 HIV/AIDS cases involving people from outside the Chinese mainland were diagnosed between January and October.
2015-11-29
Railways began selling tickets on Thursday for trains scheduled to leave between Jan 24 to March 3, a 40-day period in China known as "Chunyun" when people travel back home to celebrate the Spring Festival, which falls on Feb 8 in 2016.
2015-11-27
A string of pictures of Fuzhou's blue sky have been promoted recently among Fuzhou netizens and won acclaim.
2015-11-23
Male students are unwilling to be teachers because the pay is rather low and so they prefer to study majors that promise better incomes.